Transcription of the #DEZINFO podcast: Does anyone control us? How does the media shape reality?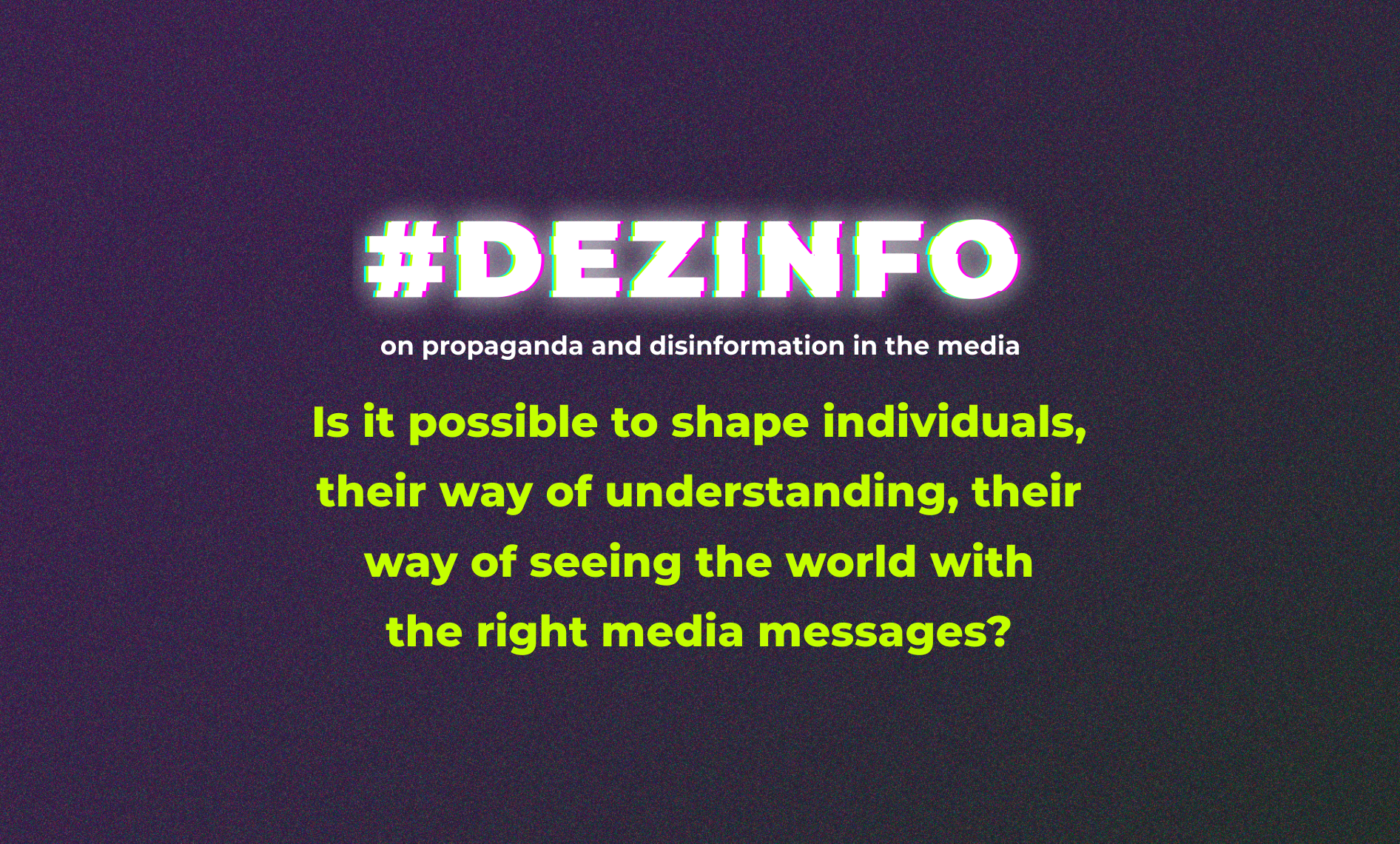 At the beginning of 2022, the first series of our podcast about propaganda and disinformation in the media called #DEZINFO was created. As a reminder, we have prepared a transcript of fragments of the most interesting statements of our guests.
Due to the numerous political, economic and social events that have been observed since the beginning of this year and, in particular, the topic of disinformation and propaganda is becoming even more important.
We invite you to read the transcript of an excerpt from the #DEZINFO podcast: Does anyone control us? How does the media shape reality?
The guest of the podcast is Prof. dr. hab. Agnieszka Ogonowska.
Head of the Department of Media and Cultural Research at the Institute of Polish Philology at the Faculty of Philology of the Pedagogical University of KEN in Krakow; Director of the Media Research Center at the University of Life Sciences and the Research Team for Media Psychology and Media Education within the Media Research Center; Associate of the Polish National Commission for UNESCO; Expert of the European Commission; Co-founder and first president of the Polish Society for Media Education.
TRANSCRIPTION
Dr. Karol Kwietniewski, Center for Propaganda and Disinformation Analysis: Is it possible to shape or manipulate individuals, their way of understanding, their way of seeing the world with the right media messages? Is it possible to target a particular person? Because you said it varies from person to person, but it is possible to reach them in one way or another. Is it really possible to manipulate individuals or even society in this way? 
Prof. dr. hab. Agnieszka Ogonowska: I do believe so. We have already studied the phenomenon of double coding of messages since at least the middle of the last century. Let me remind you of this with the example of the popular film 'Shrek'. I saw all parts of 'Shrek' in the cinema, I laughed and also observed at which moments the children who were there with me in the cinema hall laughed. We were all laughing, but at different moments. This is an example of audience reaction related to the phenomenon of double-coding. While watching the film, I recalled all sorts of contexts that have been inserted into the message, obviously by the filmmakers. Cultural contexts, related to certain forms of intertextuality, and so on. The children were laughing at something completely different, because they didn't have this superstructure, because they couldn't have it. They had no cultural experience, no knowledge related to other texts, no cultural embedding, no life experience. It is different, yet it plays an important role, when we analyze the layering of a given message. What we do with the message, that is, how we interpret and understand it, depends to a large extent on us as recipients, the people who decode the message. We can stop at the level of these literal meanings, that is, the data on the surface of the message, just as the children in the cinema did with "Shrek", and simply laugh at the various texts that can be seen, heard and are obvious. But the background that we have within us is both a question of competence, i.e. a certain background, a certain knowledge, the ability to think analytically, but it is also a question of motivation and readiness to use this knowledge. It goes without saying that if I set out to receive a given message purely for entertainment purposes, I will not make the cognitive effort each time to activate these different levels within myself. So different factors can play a role here. However, it is certainly possible to create a message, especially one that has a manipulative or disinformative purpose on the part of the sender, as well as one that is intended to influence our attitudes and social behavior, with the help of skills and knowledge regarding human cognitive processes. And it is being done. 
There are studies on the impact of commercial advertising on people's consumption behavior. When average consumers were asked "do you think it has an impact?", they all shied away, because no one likes to admit that a message influences their behavior. But in fact, you can point to links between the amount of ice cream of a certain brand sold or our political decisions and what appears in the media-sphere. These are not messages that completely pass neutrally and to which we pay no attention. 
Nowadays, new technologies have a surveillance character that we did not have in such intensity in the 20th century. Virtually every choice we make, every step we take in the new media, is recorded in some way and then used, for instance, to create personalized advertisements and offers. Consequently, these spheres are intertwined. 
People, including the very young ones, are often convinced that social media are free, and that the fact that they can use various applications and programmes is great because you don't pay anything for it in a nominal sense. You pay with your privacy. We continue to operate in this world of new technologies from the point of view of those who create technological solutions as potential consumers, as potential voters, as people whose sensitive data can be used in one way or another for the purposes of the actions of large corporations. 
How do we break outside this information bubble? Is it a good solution to use so-called critical thinking?
Some people will activate this critical thinking because, for example, they will collide with a social environment that demands it from them. Migration abroad is one such example – it always causes us to get some perspective on our living environment, but we also have to confront other value systems, other patterns of thinking, other political, economic, but also purely existential problems. Therefore, this simple maneuver of changing our physical location and confronting people who hold different views causes us to get some distance on what we have hitherto assumed about our world. 
But also a crisis situation occurring in our immediate environment can create a sense of outright injustice. We lived in the belief that the world around us, the legislation, everything was stable and to our liking, we confront sources of information that support this image of our world as law-abiding and stable. But then, suddenly, an event occurs which causes us to confront – for example, legislation, the judiciary, the justice system, the police, representatives of various services – and it turns out that this stable image of the world that we have had so far is, in fact, completely deactivated, annihilated. 
Nothing works so well to burst our information bubble, because if we are well, if we feel comfortable, we feel inner peace, we have a certain economic stability, we tend not to be motivated to enter a state of dissonance, which is a state of little comfort for us. We want to maintain some kind of status quo. Consequently, only in such a situation, only some direct experience that touches our well-being, that makes us jittery, can motivate us to step outside our comfort zone. This is simply how human beings are constructed.
Transcription in Polish: https://capd.pl/pl/raporty/325-transkrypcja-podcastu-dezinfo-czy-ktos-nami-steruje-jak-media-ksztaltuja-rzeczywistosc
Podcast in Polish: https://bit.ly/3Be8w68
This project was carried out by the Center for Propaganda and Disinformation Analysis, with the support of NATO's Public Diplomacy Division.